Gem Riverside Project is a high-class apartment project invested over 5,500 billion Vietnam Dong by Dat Xanh Group. It will be opened for sell in Quarter I/2018. Gem Riverside Project is located in Southern Rach Chiec Urban Area, where is important gateway of Eastern Ho Chi Minh City. Southern Rach Chiec Urban Area is strongly develop infrastructure.
GEM RIVERSIDE PROJECT – POTENTIAL LOCATION, EASY CONNECTING
Southern Rach Chiec Urban Area (SRCUA) started from beginning of 2016 with 02 big projects as Lakeview and Palm City of Keppel Land (Singapore). The heart of SRCUA is Song Hanh Highway, the great advantage of connectivity.
From here, Gem Riverside Project's citizen can go easy to the central of Ho Chi Minh City and neighborhood area.
GEM RIVERSIDE PROJECT – CENTRAL AND NEIGHBORHOOD CONNECTIVITY
General Map of Gem Riverside
15min to the Central of City via Song Hanh Highway – Mai Chi Tho Blvd. – Saigon River Tunnel.
7min to Thu Thiem Residence Area via Song Hanh Highway – Mai Chi Tho Blvd.
10min to Administrative Central of District 2 via Song Hanh Highway – Mai Chi Tho Blvd. – Dong Van Cong St.
10min to Thao Dien Residence Area, City Horse An Phu via Song Hanh Highway – Mai Chi Tho Blvd. – Ha Noi Highway.
GEM RIVERSIDE PROJECT – OTHERS CONNECTIVITY
20min to Saigon Hi-Tech Park: Song Hanh Highway – Vo Chi Cong St.
20min to commercial & civil ports: Song Hanh Highway – Vo Chi Cong St. or Mai Chi Tho st.
20min pass through Long Thanh Freeway and the neccesary duration to Binh Duong, Dong Nai, Ba Ria – Vung Tau from Long Thanh Freeway's End-point.
Due to its conveniently location, Gem Riverside Project and SRCUA have a very flexible transportation system.
GEM RIVERSIDE PROJECT – GEM RIVERSIDE PROJECT's DETAILS
Tên dự án: Gem Riverside
Vị trí: CT01, Phường An Phú, Quận 2, Tp. Hồ Chí Minh – Khu đô thị Nam Rạch Chiếc
Chủ đầu tư: Đất Xanh Group
Nhà thầu xây dựng: An Phong Contruction Co.Ltd (dự kiến)
Vốn đầu tư: 5.500 tỷ đồng
Tổng diện tích: 67.142 m²
Diện tích sàn xây dựng: 397.668 m²
Mật độ xây dựng 18%
Không gian xanh: 72%
Số Block: 6 Block – 35 Tầng
Tổng số căn hộ: 3.100 căn
Loại hình căn hộ: Căn hộ cao cấp, Officetel, Shophouse
Diện tích căn hộ: 50 – 120 m²
Thời gian xây dựng: 09/2017
Thời gian giao nhà dự kiến: 07/2020
Hình thức sở hữu: Lâu dài (Người Việt Nam); 50+50 năm (Người nước ngoài)
Ngân hàng bảo lãnh và tài trợ: Ngân hàng công thương Vietinbank
GEM RIVERSIDE PROJECT – FOLLOWING NATURAL, GREEN AND CLEAN SPACE
Located at the junction of Giong Ong To river and Muong Kinh canal, Dat Xanh Group is confident to ensure that the project will not be obscured by any surrounding project. The whole project can be seen as 3 sides river-view "permanently". This is the most advantage that not any project in the same area has.
3 sides river-view "permanently" is the most advantage of Gem Riverside Project
Furthermore, with the very low density of building, approx. 18%; 7 square hectar internal park makes wind, air, light and green space gather inside the project. It's really good lungs for Gem Riverside Project's Citizens.
GEM RIVERSIDE PROJECT – A TINY EUROPE
The project is designed and built according to European standards from the lines, architecture to the interior system (depending on the requirements of residents). The investor is expected to hand over the apartment in the form of rough delivery or full delivery as the needs or preferences layout.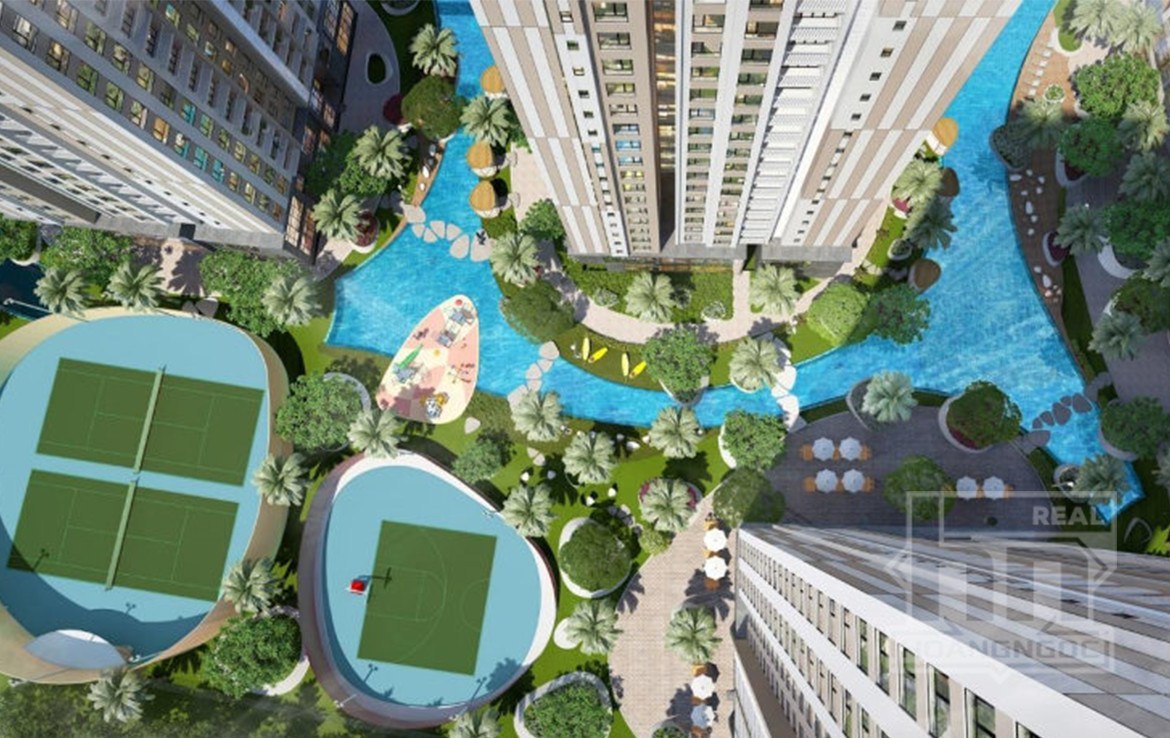 Each apartment has its own private balcony, bringing light and fresh air to every Gem Riverside resident
For the form of full delivery, furnishing equipment will meet the quality standards with a classy design to confirm the position of homeowners. The special point of the project is each apartment has its own balcony. This is a great advantage that not any project has. Private balcony will help the apartment open to the natural light as well as the wind from the river. The air here will be very clear, fresh.
MULTIFORM INTERNAL – EXTERNAL AMENITIES
INTERNAL AMENITIES
Plaza
Infinity Pool
BBQ
Jogging Road nearby river
Parking, Gardening, Healthy Care
Kid Zone
EXTERNAL AMENITIES
With the surrounded project like Palm City, Lakeview, La Astoria, Homyland 3, … the Gem Riverside Project's resident can also earn their profit.
Plaza: Vincom, Big C, Mega Market, …
School: trường công lập và trường quốc tế
Gymnastic
Administration
Hospital
Multiform internal – external amenities making more convenience for Gem Riverside's resident
COMPETITIVE PRICE – FLEXIBLE PAYMENT
Up to now, the price list of Gem Riverside is still hidden. As the rumor, the price should be 35.000.000 VND/m² (basically full delivery price). With this price, this location, the developing plan for transportation system and infrastructure, the noble of Investor, the price is really a competitive price.
Besides, the payment method of Gem Riverside Project is another advantages with multi methods. This project will be supported and guaranteed by Vietinbank, 70% of the contractual price.
And the last important point is the Sales Contract will be signed if payment 20% finished.
With all the above factors and analyze, Hoang Ngoc Real believed that 35.000.000 VND/m² is really a good price for:
mid-income living customer;
young family;
first time buying home;
mid-term & long-term senior-investor (Hoang Ngoc Real will have another article related to the profitability of

Gem Riverside Project

).
Trung Hieu, Tran