Malibu Hoi An is the newest designation of BAKH Architecture (USA). With the L-shape position, what makes it amazing!? Let see under article about amazing designation of Malibu Hoi An.
Amazing designation of Malibu Hoi An – Philosophy and Differences
Malibu Hoi An is considered to be a perfect relaxing space. This project was designed by a well-known architect Bill Bensley and his BAKH Architecture's team.
To maintain the natural landscape of Ha My Beach, one of sixteen most amazing beach in Asia, Malibu Hoi An will be only built in 20% total size area. This is really the most difficult matter of BAKH Architecture's team. But with their experiences in designing much world-class resort in whole over the world, those leading architects designed Malibu MGM Hoi An became the most modern and world-class resort, that ensure 100% properties from 690 apartments and 95 villas could have seaview.
These will make an opening space, full of light and sea breath in every corner of the house. And that why it make amazing designation of Malibu Hoi An.
With the thought of innovative and personalized, the whole resort was designed full of 4 elements: Heaven; Earth; Sky and Sea. It will bring people fresh air, cool to have the feeling of the feeling of relaxation, close to nature.
Follow their own principle of making difference in each designs, BKAH Architecture (USA) put much new ideas and trend to create a difference resort complex in Ha My Beach, Malibu Hoi An. And the tuning, careful in the design of the Malibu Hoi An resort system is the most convincing answer to what this prestigious unit has been and will do in the future.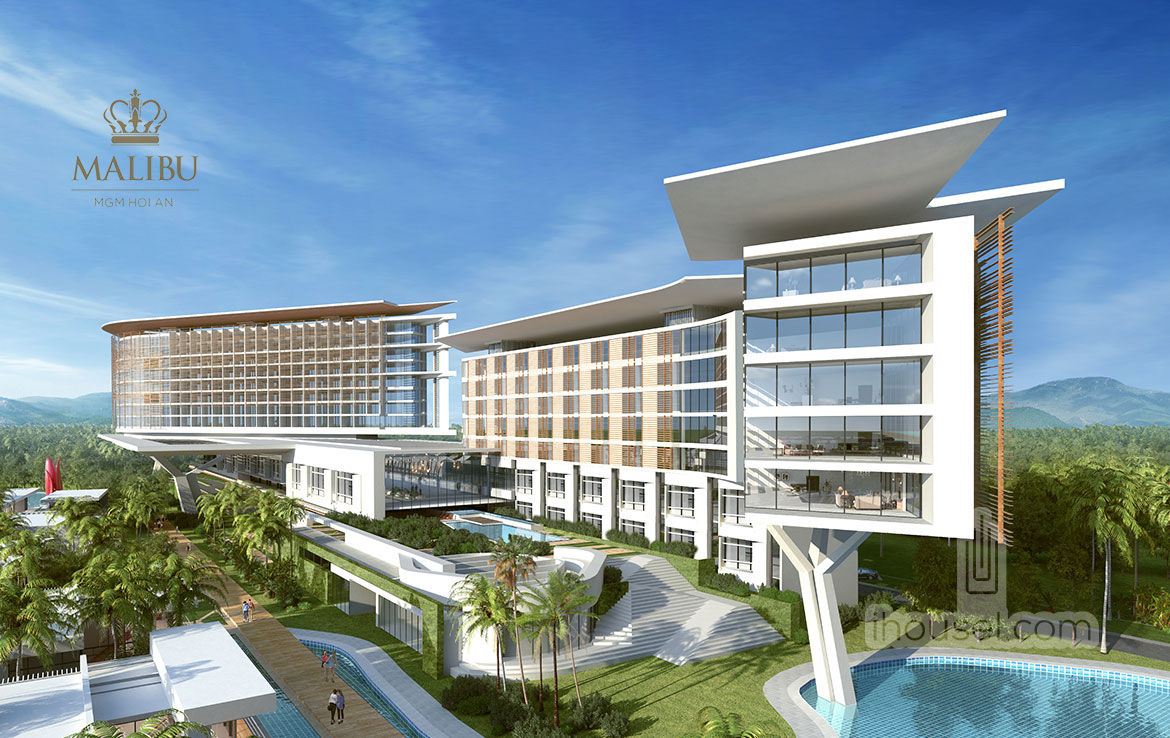 Amazing designation of Malibu Hoi An – Brief detail of Project
Malibu Hoi An has 690 apartments and 95 luxury villas. It's located on the linking route of Da Nang and Hoi An, with most abstract by the travellers in recent years.
The owner of the project is Bamboo Capital Group, a strong financial entity. It will be constructed by Hoa Binh, top-3 prestigious constractor in Vietnam.
But the most key point of Malibu Hoi An is its property management. The whole project will be managed by a world leading resort and hotel management (updating after Jan 20th 2019). This will commit the profit sharing of the project.
Besides, one other strong point of the project is its ownership. The real owner of property will have freehold ownership for their property. This makes different with other resort only has 50-years leasing contract. It's mean the real owner could use the value of property for other purpose like financial or family-register.
In addition, the project will has facilities such as restaurants, bars, sports, outdoor recreation, organic gardens, hydroponic gardens and an infinity pool.
Malibu Hoi An Resort Apartments and Beach Villas promises to bring you a wonderful experience full of excitement.
See more detail about Amazing designation of Malibu Hoi An